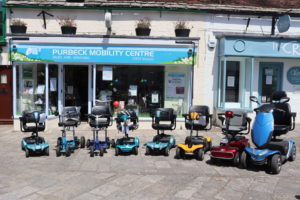 Hello and welcome back everyone!

Our shop is OPEN for business and we are operating safely following the COVID 19 procedures specified by the government. For the safety and well-being of our customers, we are serving one person/household at a time in the shop and have plenty of hand sanitiser and gloves for customer use.
If you are still self-isolating at home or cannot get to the shop, just give us a ring and we will deliver items to your door – free of charge in local areas.
We are very happy to bring interactive equipment such as wheelchairs, scooters and rollators to your house to try if it is difficult for you to come to the shop – there will be no obligation to buy on your part if the product is not what you wanted. Remember – always try before you buy!
Scooter Batteries

We have seen a rise in mobility scooter servicing and repair calls over the last couple of weeks with reports of battery failure as scooters have been standing idle throughout the lockdown. Please remember that even if you are self-isolating and not planning to use your scooter until the end of July, it is very important that you charge your scooter battery/batteries up for a whole day once a month. Remember also that manufacturers do not recommend that you leave your battery on permanent charge. Once your battery is charged, unplug the charger from the mains supply and the scooter.

Please see our Caring for your Scooter Batteries document for more information.
Scooter, Wheelchair and Equipment Hire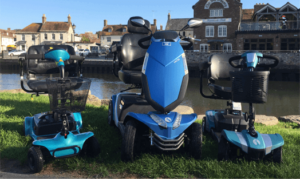 As holiday parks and resort properties plan to open on 4 July, we are now receiving scooter and wheelchair hire requests for the summer period. We have a range of mobility scooters for hire – including boot scooters, mid-range models and larger 8 mile per hour scooters.
We also hire wheelchairs, rollators, walking frames and a wide range of other equipment including commodes, toilet frames and high back chairs.
Phone us on 01929 552623 to book your hire equipment. Prices are shown on our HIRE tab.

Free delivery and collection offered on scooter, wheelchair and other equipment hire to local areas in BH19 and BH20 including Swanage, Wareham, Wool, Lulworth, Kimmeridge, Sandford, Lytchett, Bere Regis and Stoborough.
Summer Shoes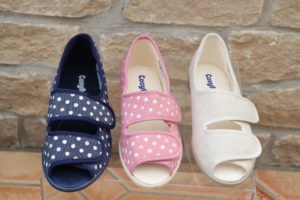 Have you seen the lovely summer range in the new Cosyfeet brochure?
Now is the time to invest in a new pair of summer Cosyfeet shoes or sandals. We have a lovely range of vibrant, summer colours and styles for you to choose from.

What makes Cosyfeet footwear so special?

Cosyfeet footwear is specially designed to fit and flatter swollen feet as footwear is wider, deeper and more roomy than the wide-fitting footwear you see on the high street. All footwear has the same extra roomy width fitting, 6E for women and 3H for men.
With a wide range of modern styles and designs, the Cosyfeet footwear range are supremely comfortable, easy to get on and off and can fit bunions, orthotics, bandaging and problem toes. Strap extensions are available on many designs to lengthen the straps on touch-fastening styles and some styles come in half sizes.
Phone us on 01929 552623 to order your footwear. Feel free to order several sizes to try to make sure you get the right fit – we can return the unwanted shoes with no cost to you.
Summer Skin

To make your skin feel extra special and to soften your hands after all that pandemic hand washing, try our Buffmonger natural hand, body and face care products. Buffmonger products are handmade, using vegan natural ingredients by a local Swanage company and products are not tested on animals.
Try Buffmonger hand balms containing Canola oil for luxuriously soft skin. Available in store in honeysuckle, lavender and rose. Great protection against harsh soaps, detergents and the elements! Just £5.75 for 100ml.
Also in stock: Best-seller: Capsicum Balm – made from chilli peppers and used to treat osteoarthritis £6.75 for 100ml.
We also have a lovely Winter Grapefruit Day Cream 30ml (£5.50) and Jasmine Skin Conditioner 250ml (£6.99)– great for moisturising the skin with a gorgeous fragrance.
Or try our Menthol Crystal Foot Cream 100ml for £9.99.

We look forward to speaking to you soon!
Lorraine, Andy and Blue