Summer News at the Purbeck Mobility Centre 2022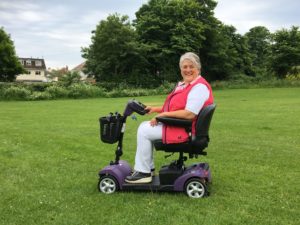 Well, it's August and it feels as if the Summer has been going on forever! Not that we are complaining as the Purbeck Mobility Centre is beautifully positioned right next to the River Frome and we can feel that lovely river breeze even when we are in the back of the shop. The two resident swans have produced eight gorgeous cygnets this year and the meadow is awash with darting dragonflies and a myriad of colourful butterflies. A good place for the Big Butterfly Count if you are taking part this year.
Scooter and Wheelchair Hire
The hire side of the business has been incredibly busy this year especially at Sandford/Parkdean Resorts and in Swanage so if you are thinking of hiring a wheelchair or scooter this year, get in touch to make your booking as soon as you can!
Sales – new Veo Sport SR
On the sales front, Rascal have brought out an updated version of our most popular 4 mile per hour scooter, the Veo Sport. Named the Veo Sport SR, the new model now has a very accessible tiller charging point to save bending down to plug the charger into the battery, a LED front light for good visibility and a robust front bumper. The Veo Sport SR is available in two modern colours, Neon Blue and Mulberry as modelled by our lovely customer June in the photo. From just £1099 (ex VAT), the Veo Sport SR is car-transportable – breaking down into 4 easy to manage parts, has all-round suspension, and a very comfortable Captain's seat. The Veo Sport SR is available with a 14Ah battery pack (with a range of 9.5 miles) or a more powerful 22Ah battery pack (with a range of 14.9 miles) and with solid or pneumatic tyres The choice is yours! NEW Veo Sport SR
Best-selling Scooters
Other scooter best-sellers this year include the ultra lightweight aluminium Illusion with its super lightweight lithium battery making it very easy to lift in and out of the car. With a range of 10-20 miles (depending on the battery size) and full suspension, this scooter is ideal for trips out and about.
We have a range of 8 mile per hour and mid-range scooters too – feel free to come in for a test- drive to try them out. No appointment necessary! Scooters
Cosyfeet Shoes and Slippers
Our Cosyfeet range of wider-fitting shoes and slippers has been very popular this Summer. The new Autumn/Winter catalogue, due out in early September, has some very new stylish designs so don't forget to come in and pick up a new brochure when you are passing.
Profiling Beds Did you know we sell profiling beds? We have a range of bedframe and mattress options to choose from so come in and have a look and a feel of our new mattress samples. They are incredibly comfortable.
Enjoy the sunshine everyone and don't forget your sunscreen!
Lorraine, Andy and Blue at the Purbeck Mobility Centre