Servicing and Repairs
We have our own in-house workshop where we can service and repair most makes of mobility scooters, powerchairs, manual wheelchairs, rollators, walkers and even the odd golf buggy! We can offer a delivery and collection service in the local area including Swanage, Wareham, Wool, Lulworth, Upton, Creekmoor, Lytchett, Corfe Mullen. Booking is highly recommended though. We have accounts with most of the of the main brands of manufacturers including Electric Mobility Rascal, One Rehab, Pride, Roma Shoprider, Kymco, TGA, Drive, Sunrise Stirling and wherever possible we use manufacturers original parts and we offer fixed price servicing for scooters and powerchairs. We will always call you to discuss and agree additional or unplanned work before carrying it out.
We supply all sizes of replacement sealed lead acid and lithium batteries and our prices include fitting (at our premises) and disposal of old batteries. To ensure your scooter, powerchair or mobility equipment remains reliable and working at its best, we only supply quality batteries from recognised UK suppliers such as MK Batteries and Strident. We can also test batteries so you can have plenty of prior warning when replacements may be needed and this will also help to avoid unexpected break downs.
We can also supply sealed lead acid leisure batteries for your caravan or boat. Please call for our best prices.

SCOOTER AND LEISURE BATTERIES
If you are not using your scooter or powerchair regularly, we have the following guidance for keeping your batteries in top condition:
– Charge your batteries once a month if not in use for at least 8 hours each time.
– Once the charger shows the charge is finished, leave the charger connected for another 2-3 hours then unplug the charger from your machine and unplug from the mains.
– Only use the correct charger type, never use a car charger on Scooter/Powerchair batteries.
– Never store fully discharged batteries for long periods.
– Always charge batteries fully before use.
– If possible avoid very hot/cold storage conditions.

We also stock a range of chargers, inner tubes and tyres for scooters, powerchairs and wheelchairs and will fit them for you. Please call to check stock, we can normally get any items not in stock within 24-48 hours.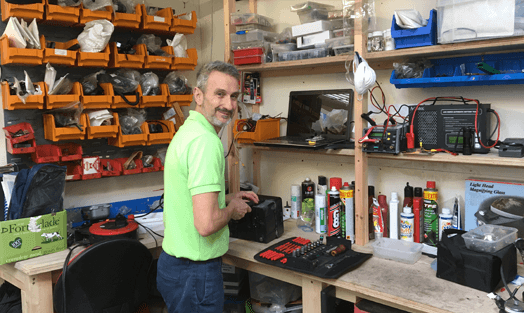 What our Customers say
Great service from Andy; would recommend. He is very thorough and went over my scooter meticulously. Good price.
Mr Mason, Swanage
Very caring and excellent service.
John Briggs, Wareham
Lorraine came to Pine Martin Grange to measure my husband and we bought a lovely Karma wheelchair on her advice which was perfect for him. Thank you
Terry, Wool
Lots of choice of rollators – I'm very happy with the double-fold Genesis which I bought. My daughter wants one too now. Lorraine was very helpful and well-informed.
Ellen Marlow, Wool
Any questions?
Get in touch